Joe Buffalo Pro Model - Pitikwahanapiwiyin (Poundmaker).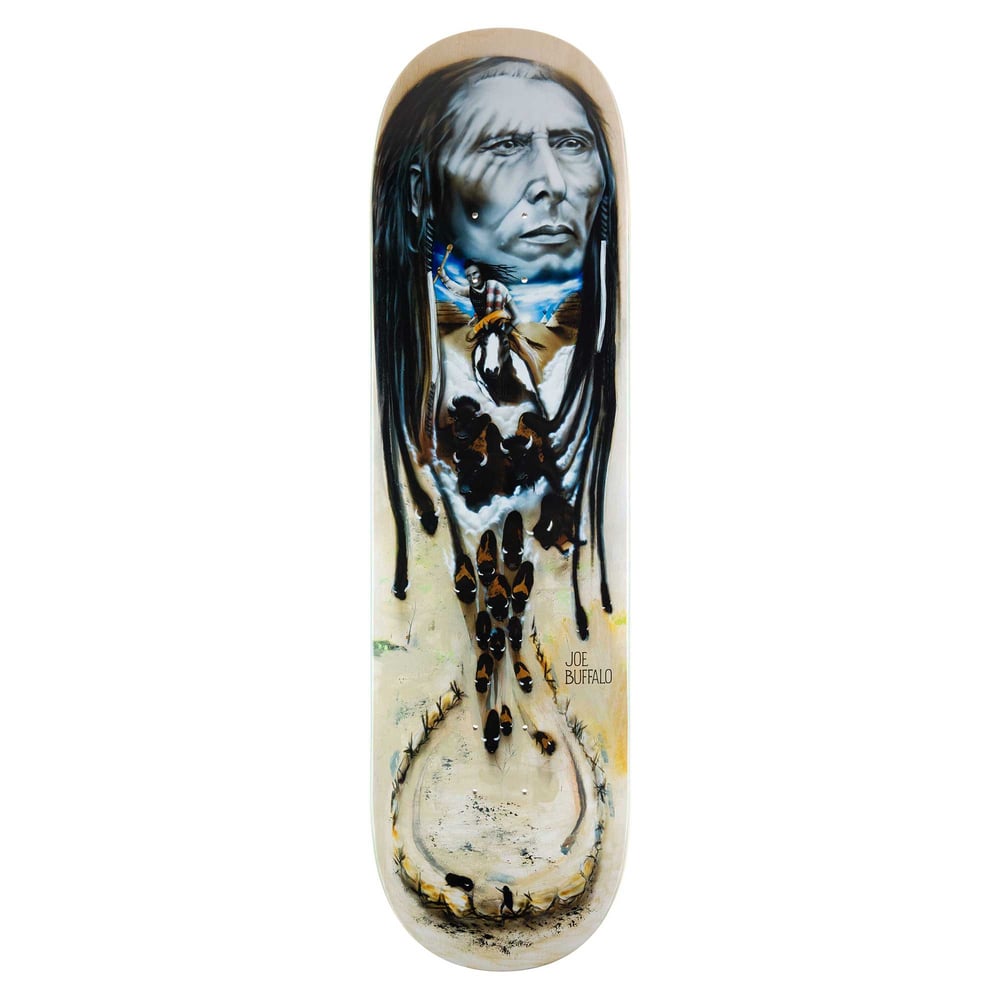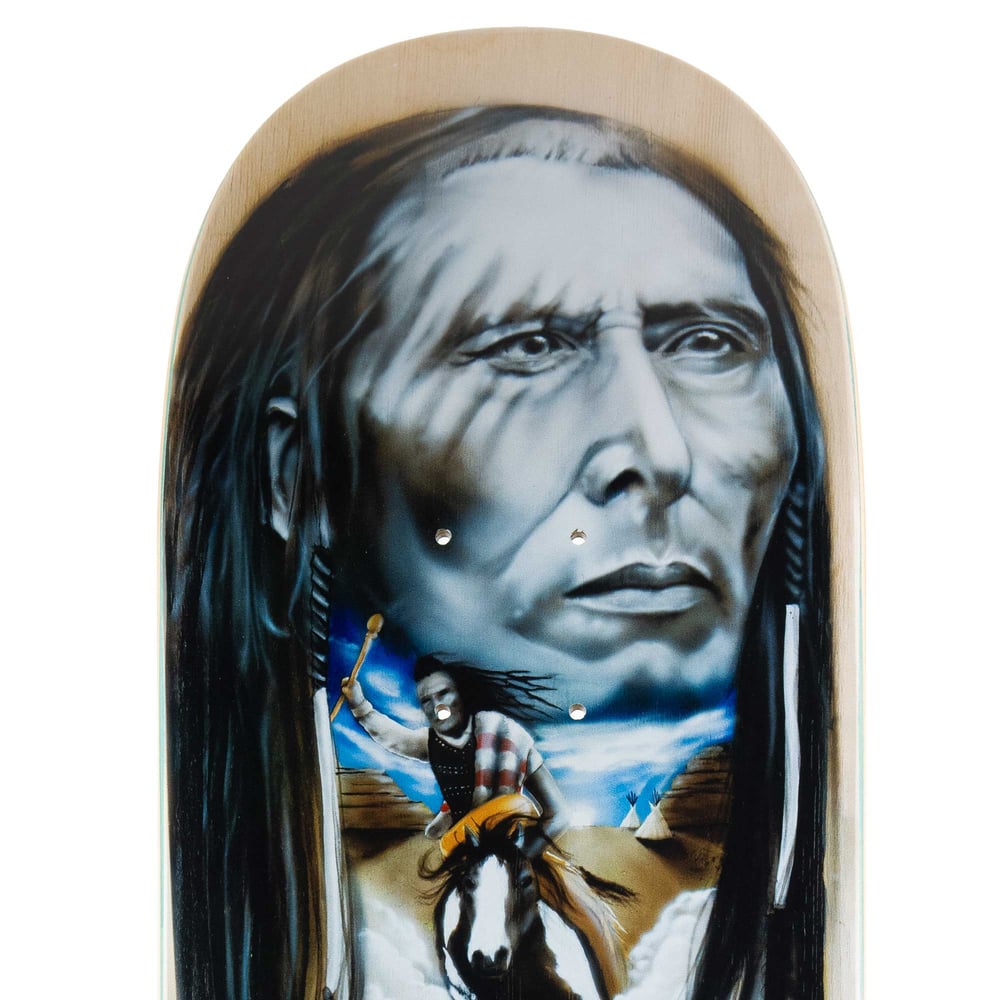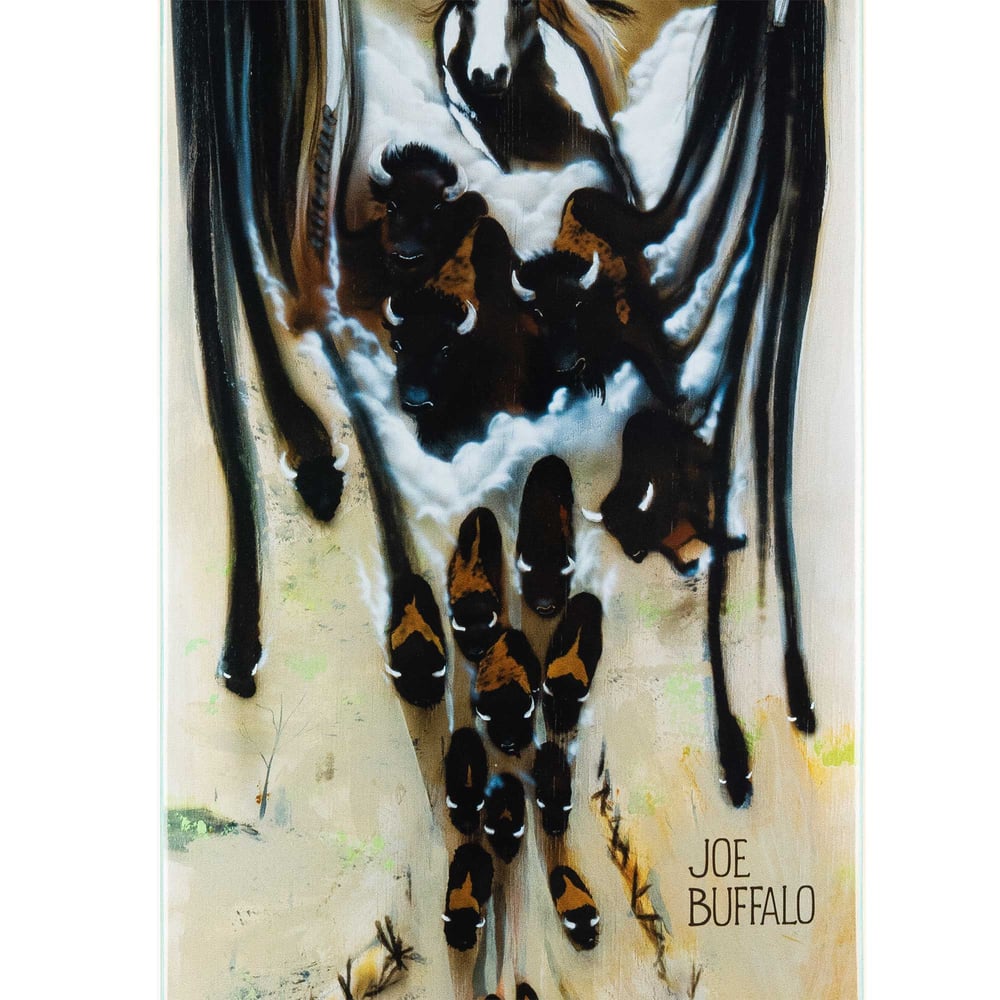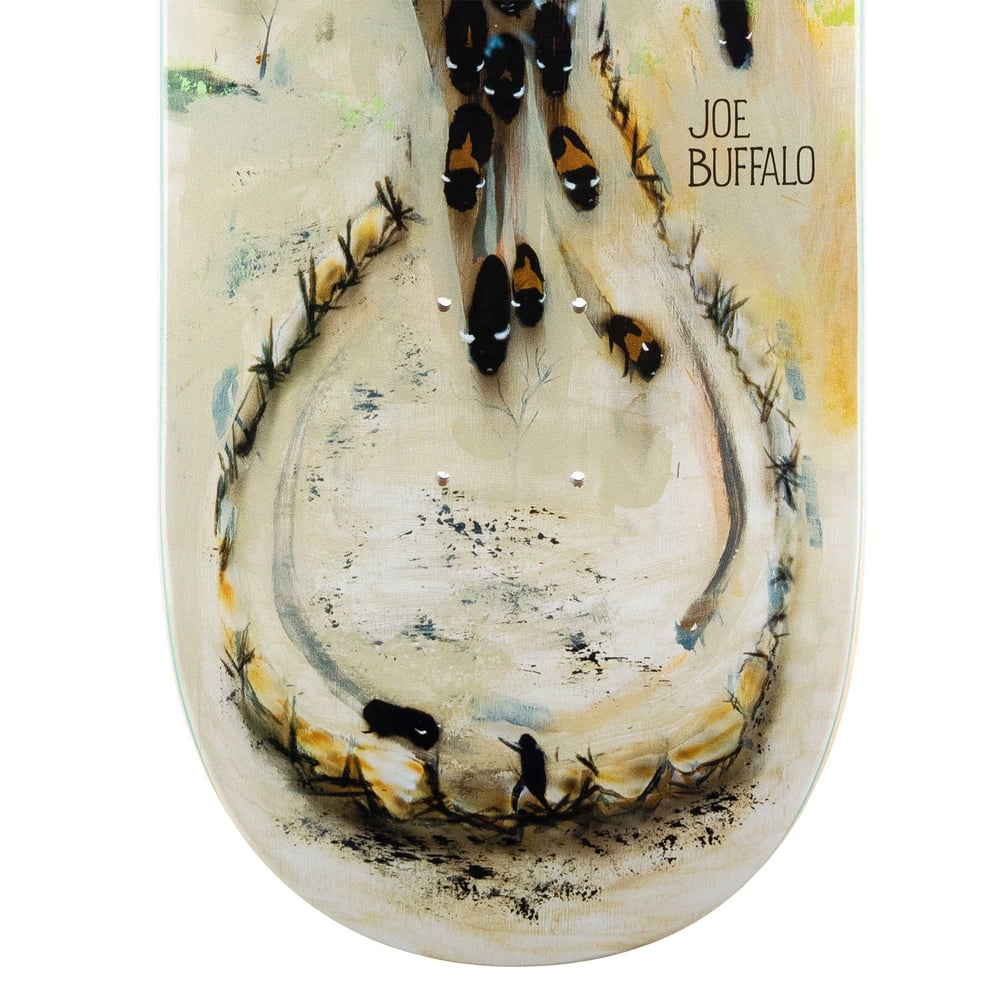 The next graphic from Colonialism Skateboards is celebrating two powerful First Nations warriors: Joe Buffalo and Pitikwahanapiwiyin (Poundmaker).
Joe Buffalo is from Maskwacis, Alberta (Samson Cree Nation). He has been skateboarding most of his life and is not slowing down anytime soon. It's important to recognize that Joe attended Residential Schools for five years. Residential Schools are now known for genocide. Joe survived this destructive institution, and a lot of Indigenous children didn't. His first memory of skateboarding was seeing his older cousins building launch ramps and watching them skate. Skateboarding has helped Joe overcome adversity throughout his life by helping him focus on a positive activity that not only kept him busy but also challenged him to grow.
As a direct descendant to Pitikwahanapiwiyin (Poundmaker), Joe wanted a skateboard graphic featuring the strength and resilience of Poundmaker. Poundmaker was born in 1842 and died shortly after being released from prison on July 4, 1886. For over a hundred years, colonial history depicted Poundmaker as a troublemaker who had been charged with treason. In First Nation's history, Poundmaker is considered a great leader who stood up to protect his people and their inherent rights. Poundmaker's treason charges were exonerated in 2019, and he has been cleared of all charges. This exoneration not only exposes the Canadian government's wrongful convictions but also speaks volumes to Poundmaker's vision of peace.
This skateboard is a very well-deserved pro model because of his dedication to skateboarding and social justice. It is an honour to work with and have Joe Buffalo ride and support the company. Miigwetch, thank you, Joe!
Skateboard Artwork by Vince Dumoulin
References and Recommended Reading on Poundmaker:
Beal, B., & Macleod, R. C. (1994). Prairie fire: the 1885 North-West Rebellion. Toronto: McClelland & Stewart.
Carter, S. (1993). Lost harvests: Prairie Indian reserve farmers and government policy. Montreal: McGill-Queens University Press.
Daschuk, J. W. (2014). Clearing the Plains: disease, politics of starvation, and the loss of Aboriginal life. Regina, Saskatchewan: U of R Press.
Dempsey, Hugh A. and Michelle Filice. "Pitikwahanapiwiyin (Poundmaker)". The Canadian Encyclopedia, 28 May 2019, Historica Canada. https://www.thecanadianencyclopedia.ca/en/article/poundmaker. Accessed 26 August 2019
Cuthand, Doug, and Saskatoon StarPhoenix. "Cuthand: Public Hanging Led to Years of Repression for First Nations." Saskatoon StarPhoenix, 1 Dec. 2018, https://thestarphoenix.com/opinion/columnists/cuthand-public-hanging-led-to-years-of-repression-for-first-nations.
Nestor, R. J. (1998). Hayter Reed, Severalty, and the Subdivision of Indian Reserves on the Canadian Prairies. MA thesis, Saskatchewan Indian Federated College, University of Regina.
Ogg, Arden. "Exonerating Poundmaker: The Role of Late Tyrone Tootoosis, Sr (y-Dialect, Audio)." Cree Literacy Network, 15 May 2019, https://creeliteracy.org/2019/05/13/exonerating-poundmaker-the-role-of-late-tyrone-tootoosis-sr-y-dialect-audio/.
Titley, E. B. (2009). The Indian commissioners: agents of the state and Indian policy in Canadas prairie West, 1873-1932. Edmonton: University of Alberta Press.