Joe Buffalo - Graffiti Cree syllabics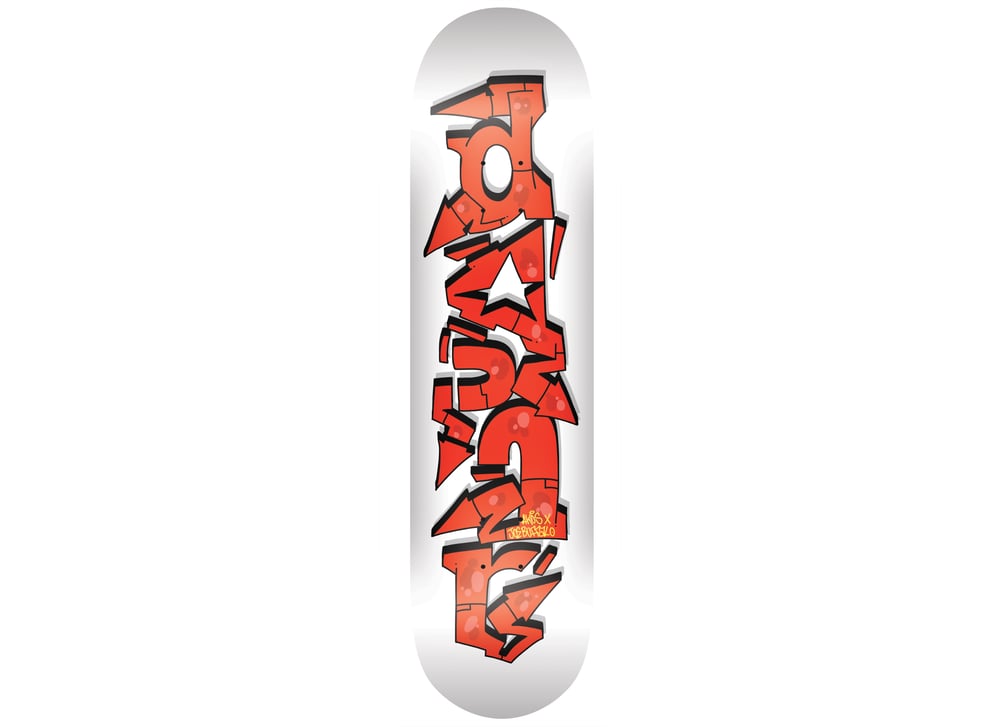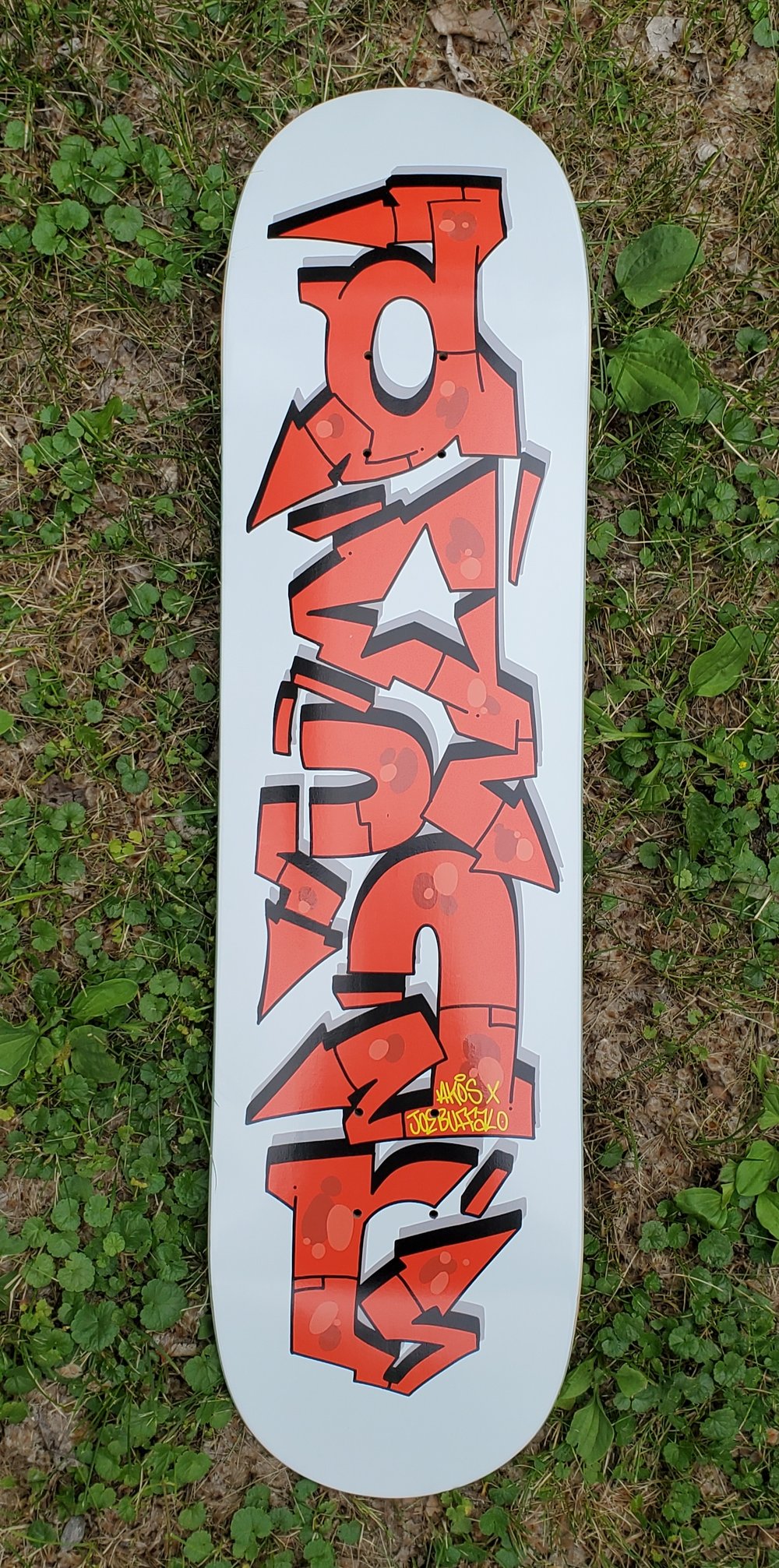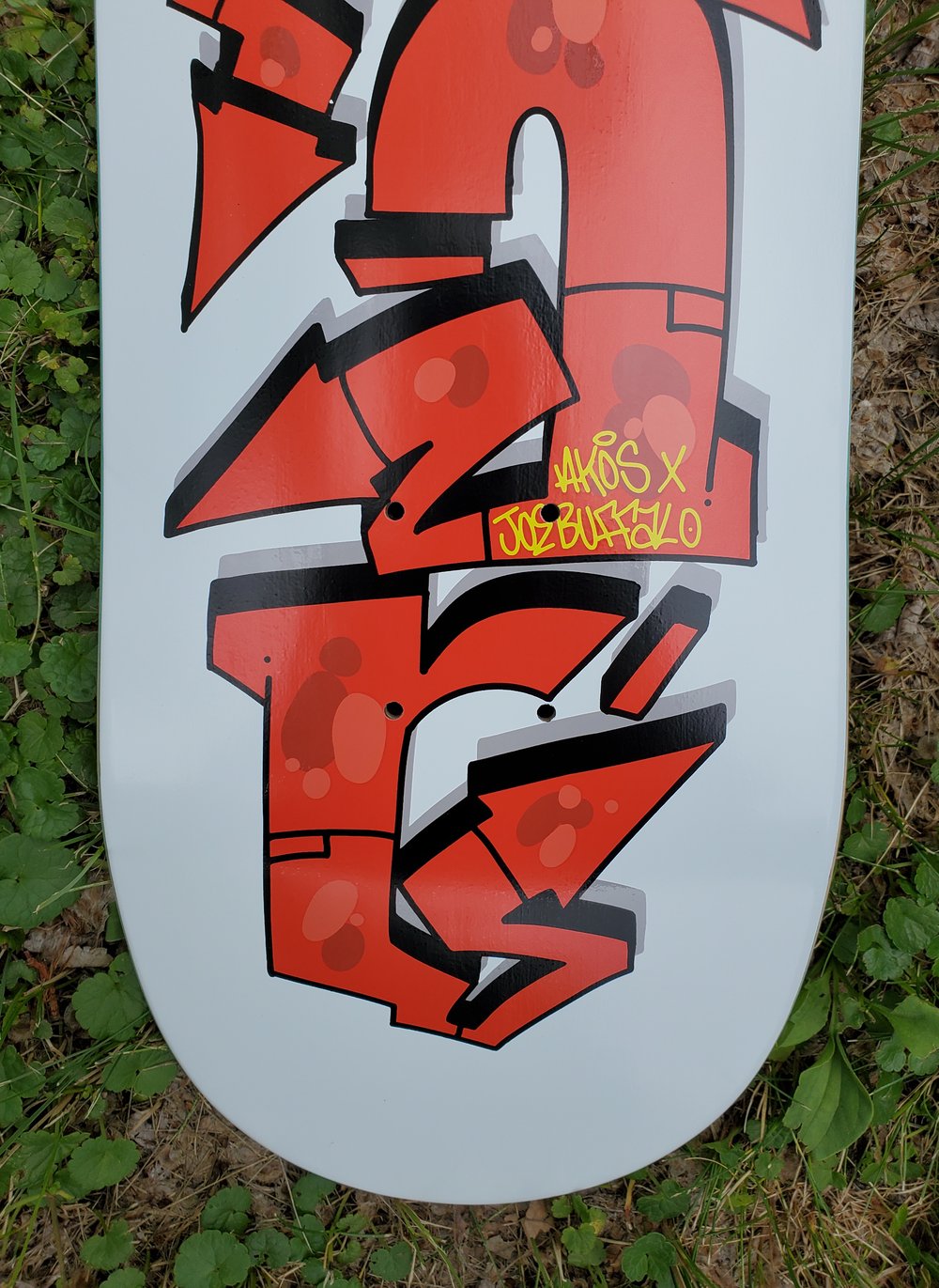 Colonialism Skateboards team rider, Joe Buffalo, is from Maskwacis, Alberta (Samson Cree Nation). He has been skateboarding most of his life and is not slowing down anytime soon. It's important to recognize that Joe attended Residential Schools for five years. Residential Schools are now known for genocide. Joe survived this destructive institution, and a lot of Indigenous children didn't. His first memory of skateboarding was seeing his older cousins building launch ramps and watching them skate. Skateboarding has helped Joe overcome adversity throughout his life by helping him focus on a positive activity that not only kept him busy but also challenged him to grow.
This pro-model is Joe's traditional name in Cree syllabics, written in graffiti. His name is Dancer, which is spelled onîmihitow in Cree. Joe received this name through a Sundance ceremony.
Traditional Indigenous names are given by either an Elder, the community, or family members through a process of a ceremony or other cultural events like feasts, round dances, sweat lodges, or a cultural ceremony. Traditional naming ceremonies have been going on since time immemorial. This traditional way of naming was disrupted through colonization on Turtle Island. Colonial governments sent out government agents or Indian Agents to communities to collect names in Indigenous communities. Through this process, names would be misspelled, and surnames were handed out to individuals who didn't have English names. In some cases, Indian Agents' names were written down in these census records instead of the traditional names of individuals in the community. Traditional names were also lost during Residential Schools, day schools, sixties scoop, and now, the current child and welfare system.
This skateboard graphic is an example of reclaiming traditional names for Indigenous people like Joe Buffalo. This is an important step in decolonizing and reclaiming cultural and traditional practices which were forbidden until recently.
The Truth and Reconciliation Commission of Canada (TRC) released its Final Report in 2015. The Final Report included Call to Action and the #17 Call to Action states:
"We call upon all levels of government to enable residential school Survivors and their families to reclaim names changed by the residential school system by waiving administrative costs for a period of five years for the name-change process and the revision of official identity documents, such as birth certificates, passports, driver's licenses, health cards, status cards, and social insurance numbers" (Truth and Reconciliation Commission of Canada).
The graffiti artwork was created by Ta'kiid Aayaa (Corey Bulpitt), Haida from the NaiKun Raven Clan. He has done artwork for companies such as Facebook, Adidas, and Footlocker and created many public totem poles and murals including spaces such as the National Gallery of Canada and Paris, France. He works in many mediums such as gold, wood, glass, stone, and painting and has been a part of the traditional Haida tattoo revival. He is known for his woodcarving and large spray-painted pieces which are done freehand with aerosol using no projectors, sometimes on multiple-story high buildings. He often blends traditional with contemporary, but the knowledge of the classic forms almost always becomes a focal point and the reason for the success of his contemporary work.
Colonialism Skateboards support all skateboarders in their pursuit to better themselves mentally, physically, emotionally, and spiritually.
Resources
Truth and Reconciliation Commission of Canada: Calls to Action - Gov. (n.d.). Retrieved from https://www2.gov.bc.ca/assets/gov/british-columbians-our-governments/indigenous-people/aboriginal-peoples-documents/calls_to_action_english2.pdf