Kent Monkman "The Scream" board set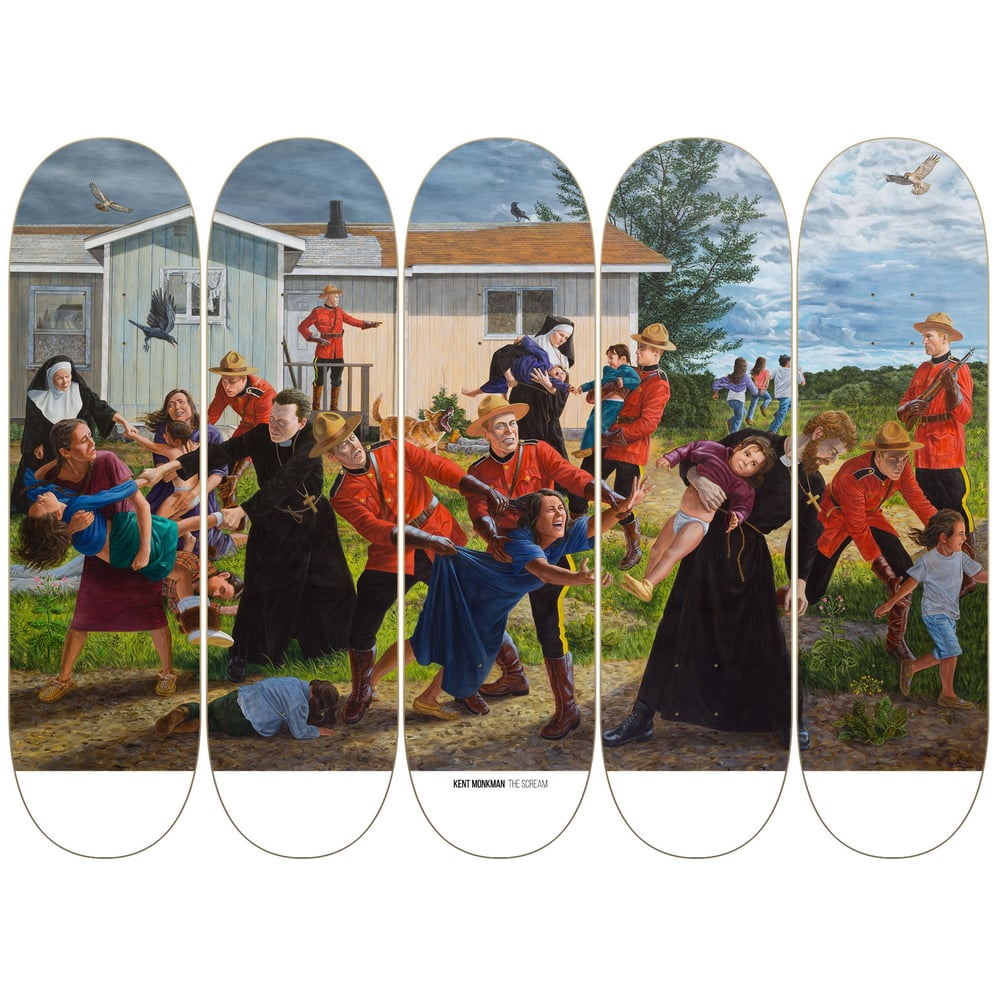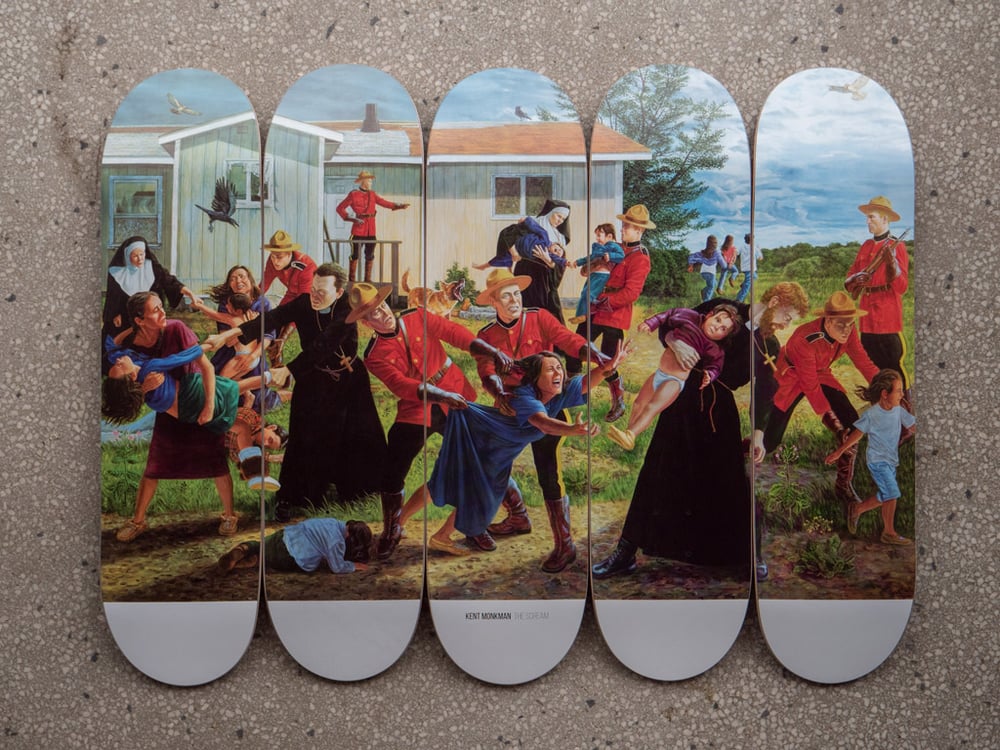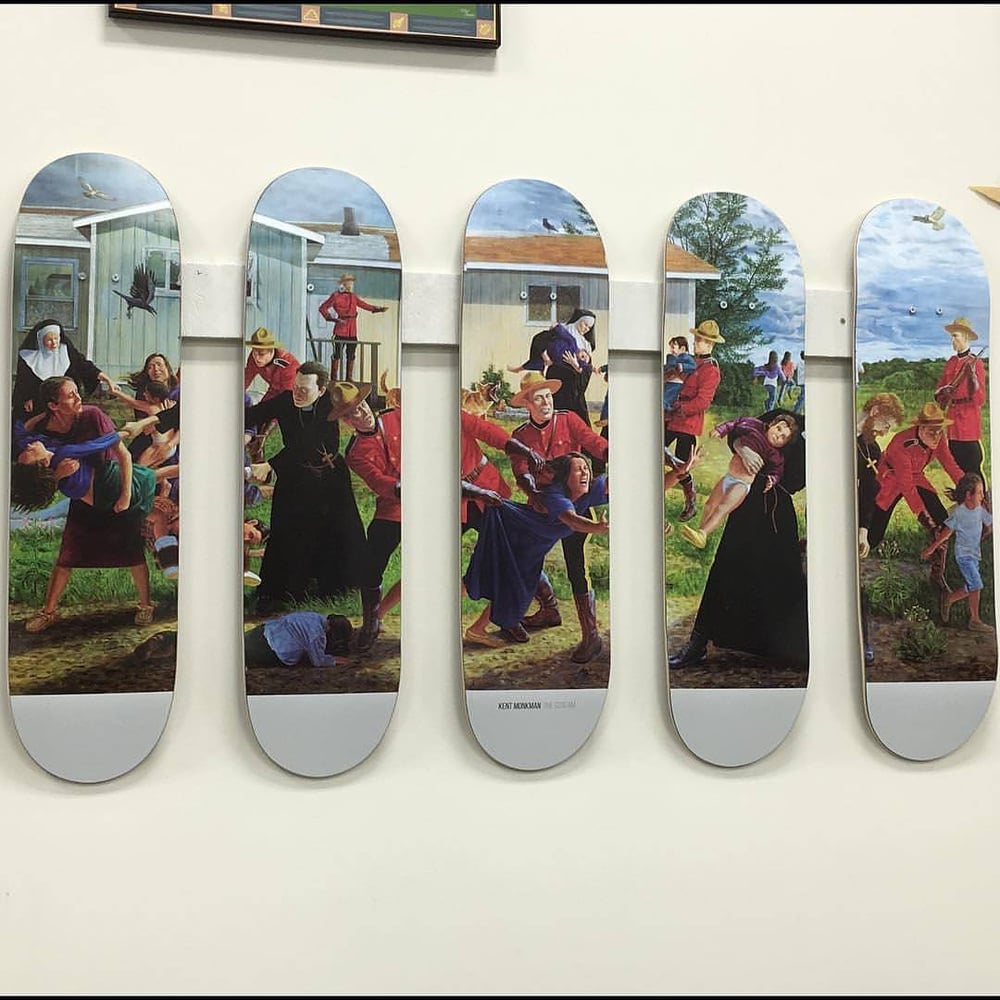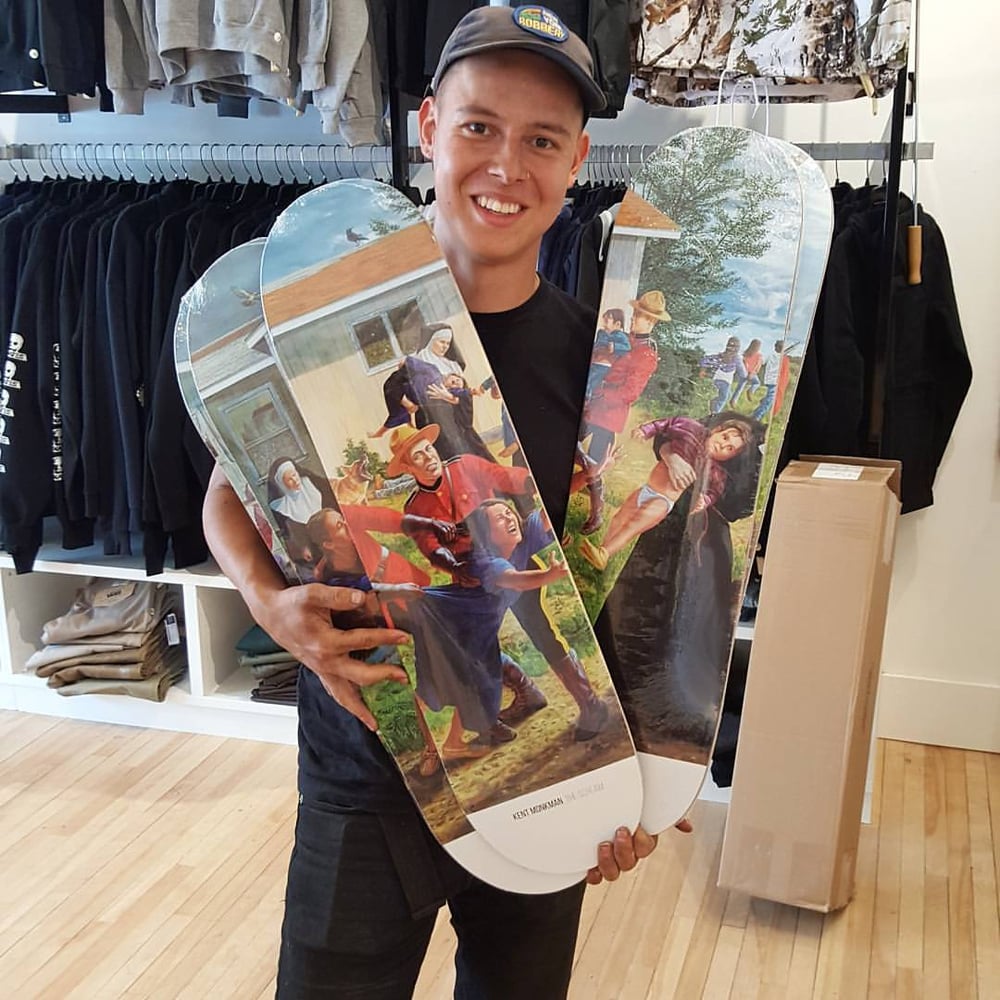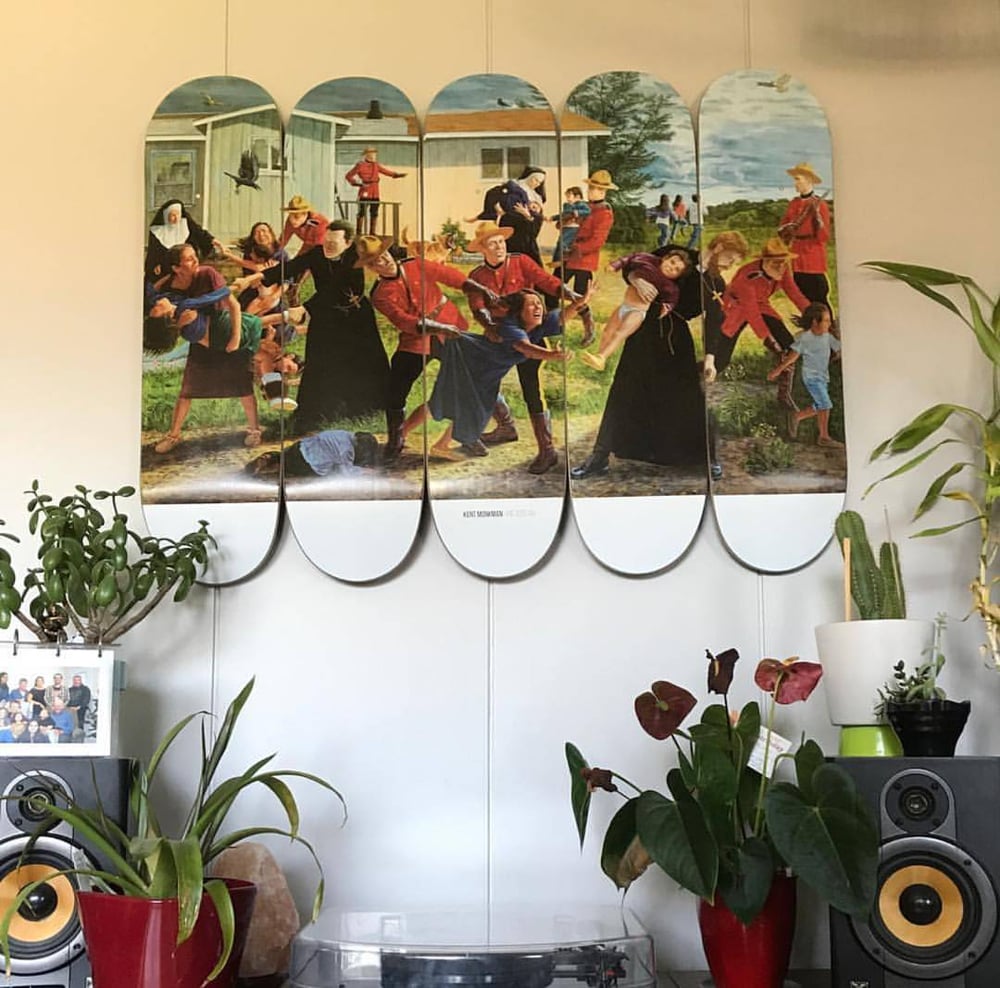 For the seventh graphic, Colonialism Skateboards has worked with Indigenous artist, Kent Monkman, to highlight another piece of our shared history. The company is very honored and humbled to be collaborating with Kent Monkman. The Scream, and its haunting imagery, reflects the devastating impacts of colonization in Canada and the Residential School System. Kent Monkman's artwork challenges us to think more critically of our history and what we are celebrating as Canada turns 150.
During the 1860s and 1870s, as the frontier of European settlement progressed westward, several small boarding schools for Indigenous children were established by missionaries along the prairies, up north, and in parts of British Columbia to assimilate Indigenous people into mainstream Canadian society. While this scattering of schools was funded in part by the federal government, by the 1880s, Ottawa partnered with the churches (which were primarily of the Roman Catholic, Anglican, Methodist, United, and Presbyterian denominations) to establish several larger, more industrial schools across Western Canada. Over 130 Residential Schools operated in Canada, through which approximately 150,000 First Nations, Métis, and Inuit children would eventually be forced to attend. While most Residential Schools were closed by the 1980s, it was not until 1996 that the last school closed outside of Regina, Saskatchewan.
Within the Residential School system, Indigenous children were subject to cultural genocide, were forcibly separated from family, forbidden from practicing their cultural and spiritual traditions, and oftentimes subject to horrendous treatment and even death. While there are some positive student accounts, overwhelmingly Residential School survivors recount experiences of inadequate education, loneliness, hunger, illness, as well as physical, sexual and mental abuse and violence. St. Anne's Indian Residential School in Albany, Ontario, for example, represents the extent to which these hardships were endured, where this particular institution was equipped with an electric chair for disciplining and torturing students. Not surprisingly, more than 6,000 Residential School student deaths have been documented by the Truth and Reconciliation Commission of Canada, and it is assumed even this figure falls short of the real outcome. According to CBC News, by these estimates, the odds of dying for children in Residential Schools were higher than the odds of dying for Canadians serving in the Second World War.
This dark chapter in Canadian history continues to occupy a painful place in the minds and lives of Indigenous people across Canada. Many Residential School students suffered alone in silence and shame, seeking individual ways of dealing with their trauma. The effects of this trauma and subsequent intergenerational trauma has translated into higher rates of suicide, addiction, incarceration and disease, as well as lower life expectancy, socioeconomic status, and educational attainment among Indigenous communities. For decades, these outcomes were attributed to the shortcomings of Indigenous people alone, without any analysis connecting to the wide-reaching impact of colonialism, assimilation policies, and the Residential School system.